Call Center Solutions
Your contact center doesn't have to be complex to be powerful. In fact, the Strata CIX™ ACD is simplicity at its finest, running as an application on the Strata Media Application Server or other network server. A robust array of Automatic Call Distribution (ACD) features make it easy to optimize contact center operations, increase customer satisfaction, and improve efficiency. You can very effectively allocate inbound calls among your call-handling agents.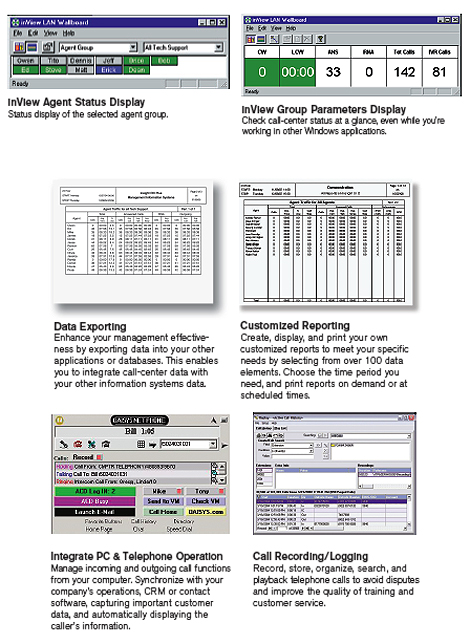 You'll appreciate its numerous, valuable features:
Advanced Call Routing directs calls based on Caller ID, account numbers, private lists, balanced call count, preferred agent treatment, agent priority, time-of-day, day-of-week, day-of-year, and user-entered data.
Skills-Based Routing sends calls to the right person to handle the call.
Priority Queuing enables you to answer higher priority calls sooner.
Multiple Group Agent Log-in provides important call coverage between groups and tiered service levels.
Agent Priority Routing gives you the ability to send the right call to the right agent.
Intelligent Announcements play pre-recorded messages and inform holding callers of their place in the queue or estimated time before answer, as well as offering alternative actions like going to voice mail or invoking a call back reservation.
IVR Voice Assistant gathers and validates caller input, triggers responses, alerts agents when the queue gets overloaded with calls, and provides many creative application opportunities.
Integration of your PC and your telephone enables you to manage incoming and outgoing call functions and synchronizes with your company's operations, CRM or contact software.
Call recording/logging enables you to record, store, organize, search, and playback telephone calls to avoid disputes and improve the quality of training and customer service.
Call Center reports let supervisors analyze agent performance, call center group activity, and system status, as well as forecast future call center staffing requirements by analyzing call volume patterns.
You'll also appreciate its numerous, important benefits:
Efficient call handling through automated call processing provides faster response to callers, and makes agents more productive.
Effective handling of call traffic during peak hours, and complete back-up coverage during heavy call volumes.
Accurate forecasting of call center staffing and facility needs, making sure you have the call handling resources you need.
Effective management of the lines serving your call center increases management control.
Investment protection through solutions that adapt to your needs as your business grows.