Healthcare Solutions
The Toshiba Strata CIX and the Nurse Call System from IgeaCare provide a comprehensive nurse response system. The Nurse Call System is connected to the Strata CIX which serves as the communication device, eliminating dedicated cabling required by traditional nurse call systems, while increasing staff availability.
With a wide variety of devices and peripherals, the integrated Strata CIX and IgeaCare products address the communication needs of hospitals, nursing homes, assisted living homes and senior apartments.
Overview
Due to the advancement in medical treatment, the increased awareness of healthy living and the expanding population of the elderly, traditional facilities like hospitals and nursing homes require quick-response capabilities. IgeaCare products coupled with the unique Strata CIX-powered calling device, offers a reliable nurse call system. It also provides other necessary devices required by hospitals such as dome lights and call cords.
In addition, IgeaCare and Toshiba products address nursing home, assisted living home, and the senior living home communication requirements which become more crucial as an older population moves into these facilities. Peripherals such as full featured staff and resident telephones, voice-mail, surveillance cameras, door-phones, pull cords and/or wireless pendants can be used to provide patient and/or residents with better service for their standard of living.
Notification tools, reporting tools, Real Time Location Systems (RTLS), Call-Accounting for resident bill-back, are also available to increase the service level and profitability of those facilities.
Toshiba CIX Products
Door Phone (MDFB)

Door phones can be assigned to ring telephones when the button on the door phone is pressed. The Door Phone location displays on the called telephone's LCD. When the telephone answers, a two-way talk path exists between the telephone and door phone.
Door phones can also be used as sound monitors. Station users can call the door phone (it will not ring) and listen to sounds from the surrounding area. Door phones also can operate as a "hot line." For example, a door phone can be used for calls between an office and a recreation room. Door Phones are often used with a door lock to screen building visitors. The door lock can be opened for a predetermined amount of time by pressing a button on a telephone.
Door Phone/Lock Control Unit (DDCB)
The DDCB can support as many as three door phones (MDFBs) or two door phones (MDFBs) and one door lock control relay. Using the door lock control, digital station users can unlock a customer-supplied electronic door lock at the touch of a button programmed on their digital telephone or by dialing a feature access code from any type of telephone.
Each door lock can be programmed to remain open between three~30 seconds. The Door Lock button LED remains On while the lock is open. LCD telephones display "DOOR UNLOCKED" until the telephone releases or times out.
Mobility Solutions

Toshiba mobility solutions maximize the value of the customer's wireless Local Area Network (WLAN) by using their existing WLAN infrastructure. This makes very cost-effective mobility solutions possible with Strata CIX solutions.
The Strata CIX supports Toshiba approved SIP telephones for basic user applications where few features are needed. SIP telephones connected to the Strata CIX are a great way to stay in contact with emergency staff of caregivers who expected to be mobile. The mobile SIP telephones do not provide the full level of feature functionality that Toshiba IP telephones provide using the MEGACO+ protocol.
Wireless Access Points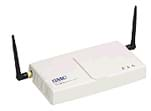 Toshiba has a strategic relationship with SMC Networks, a leading provider of networking solutions for the small and medium business markets to market a host of SMC Networks wired and wireless networking products through authorized Toshiba dealers. As part of providing a total solution, you can purchase SMC wireless access points from Toshiba and package them with Strata CIX solutions.
Toshiba supports the SMC EliteConnect 2.4GHz Wireless Access Point. This access point sized and priced to fit well with Strata CIX systems to serve wireless LAN applications in which customers want to install new or expand the capabilities of their existing wireless LAN.
IGEACARE PRODUCTS – IGEACOM RESIDENT AND PATIENT UNIT
Peripherals
IgeaCare provides different calling devices to satisfy the communication requirements of various healthcare facilities. The igeacom300/500 resident unit is especially suitable for nursing homes and assisted living homes. It can be used to call the caregiver staff in case of emergency, or in case help is needed. It also features a Menu/Activity button for informational announcements such as the food menu or recreational activities. The igeacom600/700 patient unit is typically used at the hospital for the emergency calling to the nurse station. It has the code blue/staff button typically required hospitals.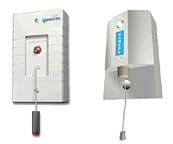 IgeaCare provides a wide variety of peripherals to suit the particular needs of various healthcare facilities. Typical peripherals are shown below. Pull cord – Usually mounted on the wall of the bathroom or living room, the pull cord notifies the nurse station of a patient/resident's emergency situation.
Wireless pendant – Patients and residents can carry the wireless pendant to notify the nurse station of an emergency situation when they are not at the bed.
Dome light – The dome light can show the location of the emergency to the staff so they can react to the patients/residents more quickly and can be programmed according to the type of emergency.
Call cord – Typically used in the hospital, the call cord enables mobility with remote emergency notification to the nurse station.
IGEACARE PRODUCTS – NOTIFICATION TOOLS
Reporting and Call Recording
IgeaCare products provide the various tools to notify responders of an emergency including pager, cell phone, PDA, wireless phone, email, and audio alert.
IGEA: QUALITY CARE THROUGH INNOVATIVE TECHNOLOGY
IgeaCare software for facilities, known as Apolo, has been designed to help management analyze customer satisfaction and service provided to residents and patients. Average response time to a call can be calculated to analyze the level of service staff has been providing customers. In addition, call recording of all patient-staff, patient-outside callers, (such as doctors) can provide quality of care and limit liabilities.