Strata CIX
COMMUNICATE FASTER AND EASIER
Whether your business is small or large, a single location, or a branch location of a larger organization, you need a communication system that enables you to connect with your customers and promote collaboration within your organization; a system that lets you work exactly as you need to today, while giving you the ability to cost-effectively add capabilities as you grow; a system that utilizes the latest technologies to save you money, boost productivity, improve customer service, and deliver a superior return on your investment.
Strata CIX™ communication systems provide the ultimate in modular, scalable, and networkable telephone solutions for today's businesses.
NO CUSTOMER GETS LEFT BEHIND
The Strata CIX is an IP communication system that integrates your voice and data applications over your existing IP network. It combines the advantages of network based telephony and the features of traditional PBX systems and extends full telephone functionality to both local and remote users via IP telephones connected to your private intranet or the Internet, providing the same productivity features to all users no matter where they are located. All while reducing your infrastructure cost, lowering capital expenditures and operational costs, and increasing productivity.
But Strata CIX is not just an IP system – it does much more. It also provides the configuration flexibility you want to build the communications system you need.
The Strata CIX supports all types of terminal devices. This includes a complete line of Toshiba IP telephones, IP add-on modules, DSS consoles, and an IP Attendant Console for high-volume call environments, as well as third party SIP telephones, analog telephones, and Toshiba digital telephones.
The Strata CIX supports all types of network connections including IP network interfaces, analog and digital Public Switched Telephone Network (PSTN) interfaces.
This flexibility enables the Strata CIX to be configured with all IP telephones, all digital telephones, public or private network connections, or combinations in between. Toshiba IP solutions allow you to decide when and where it makes sense for you to deploy IP telephony or digital telephone equipment. This provides you flexibility, and maximizes your return on investment.
ADAPTABILITY FEATURE CUSTOMIZATION
True customization comes when you can adapt a solution completely to your needs. Using Toshiba's FeatureFlex™ adaptability tool, the Strata CIX with integrated Media Application Server, provides you a revolutionary way of personalizing your telephone system with just the right capabilities. Tailor your system well beyond the standard system and administrative options and basic programmable features to modify virtually any existing features or create new ones. And not just CIX call processing, but blended features that work between all system applications and resources. This includes voice mail, CTI applications, and more. An easy to use script editor works with the Strata CIX and Media Application Server to interpret code, process functions, follow custom routing, and more.
Rather than waiting months or years for the next software release, FeatureFlex makes it possible to add the features you need today. So in just a short time, you can have a telephone system customized to your needs.
SOLUTIONS FOR EVERY BUSINESS
Toshiba provides a family of Strata CIX communication systems for every business— regardless of size:
CIX100-S supports combinations of CO lines and station users totaling 16 ports in its base configuration, and is expandable to CIX100 capacity.
CIX100 supports up to 64 CO lines or 72 station users and combinations up to 112 ports.
CIX200 supports up to 96 CO lines or160 station users and combinations up to 192 ports.
CIX670 supports up to 264 CO lines or 560 station users and combinations up to 672 ports.
Toshiba's Strata Net technology enables multiple Strata CIX systems to be networked together to provide additional capacity and accommodate multiple locations. Multiple networked systems work together as one integrated system and provide centralized attendant services, share a single centralized voice mail system, provide unified call center operations, and internal extension dialing. Other benefits include saving money by avoiding costly long-distance charges on calls between locations, and turning a long-distance call into a local call by "hopping off" the network as needed.
MIGRATION SIMPLICITY AND SAVINGS
"No customer gets left behind" is a proven promise that Toshiba fulfills with every new product, and the Strata CIX product family proves it once again. When migrating to newer or larger systems in the future, you'll enjoy an exceptional return on your investment by being able to reuse telephones and key components that are common between all Strata CIX systems.
Easily move from older Strata DK and Strata CTX® systems to Strata CIX without additional training—and take much of your existing equipment with you, including Toshiba 2000-series and 3000-series digital telephones, trunk and station interface cards, option cards, and Stratagy® voice mail. You have the configuration flexibility to build the communication system you need today, while protecting your technology investment into the future.
COMPLETE SELECTION OF TELEPHONES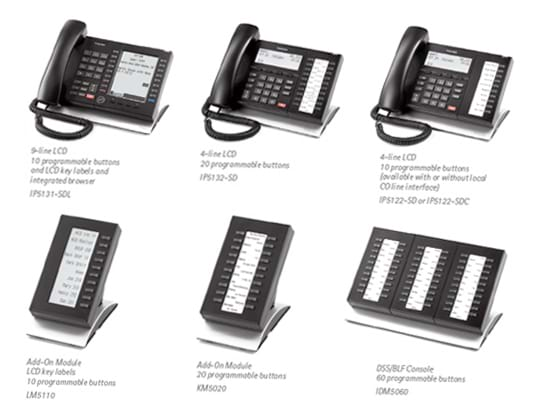 Your business is unlike any other. Different needs. Different processes. Different employees. Toshiba understands that each user needs the right device to do their job with utmost efficiency—and the Strata CIX is the communication system designed for it all. With a full line of devices to choose from, including: IP telephone models and digital telephone models for desktop use; wireless IP telephones; cordless digital telephones; SoftIPT™ phone clients on laptops and PDAs for mobility applications; 20-button add-on modules, 60-button DSS consoles, and the Strata IP Attendant Console for answer positions, you can outfit your team with exactly the equipment they need, while seamlessly networking them all on a single system.
Go Mobile Confidently and Effortlessly
Mobility is paramount to staying connected to your customers and your team, and being as productive away from your desk as when you're at it. The ability to go anywhere in your facility and do anything—while staying connected to your communications and messaging system—is a reality, thanks to Toshiba's powerful line of wireless, cordless telephones and soft phones. Access voice mail and your company operator anywhere in the building. And take advantage of all the system's advanced calling features almost anywhere you go within your facility.
SIMPLIFY MESSAGING EFFICIENTLY AND GRACEFULLY
Voice mail, e-mail, faxes, text messages, and more come to your business at all hours, and sometimes in overwhelming numbers. How do you manage it all? Stratagy voice processing is a key component of the Toshiba Strata CIX business communication system, to help you manage messages and communicate better. You improve customer service by providing callers with instant attention, responsiveness, and access to information.
All Stratagy systems provide these essential applications:
Automated Attendant to answer incoming calls without receptionist assistance
Call Routing to direct callers to specific extensions or departments
Telephone Answering to take messages when an employee is unavailable
Voice Messaging to create, send, receive, forward, and save voice messages
Audiotex to play pre-ordered information on demand
Call Screening to announce the calling party
Message Notification to let you know when messages are left
Token Programming to create custom voice processing functions and applications
Stratagy gives you the ability to:
Simplify voice mailbox operation through a Strata CIX telephone with LCD display and soft keys
Record calls directly into your voice mailbox with a single button on your telephone
Manage voice, fax, and e-mail messages from your PC or telephone via Unified Messaging
Add advanced options as needed to support Fax Integration, Text-To-Speech, Speech Recognition, and Interactive Voice Response applications
Communicate effectively both in and out of the office with other employees and customers 24 hours-a-day, 365 days-a-year
From basic to sophisticated, Toshiba Stratagy voice processing delivers a variety of voice mail choices to select what's best for your business.
Stratagy IVP8, iES16, and iES32 models seamlessly integrate your voice message processing on a single printed circuit card inside your Strata CIX system—with no need for external connections, standard telephone ports, or separate power backup systems.
Toshiba's Strata Media Application Server supports voice processing and all value-added applications integrated within one platform that connects to the Strata CIX via Ethernet. Applications include Auto Attendant, Voice Mail, Automated Speech Recognition (ASR), Text-to-Speech, Unified Messaging, Interactive Voice Response (IVR), Automatic Call Distribution (ACD), ACD Reporting, Toshiba approved 3rd party CTI applications, Info Manager™ Web-based telephone applications, FeatureFlex adaptability tools, and browser based system administration.