Zultys - Ready to Serve the Needs of Any Business
True "All-in-One" IP Phone Systems and Unified Communications Solutions
The Zultys MX series of both cloud and premise based enterprise class IP phone systems combines best of breed Unified Communications (UC) features into an easily scalable "all-in-one" native SIP solution that can support up to 10,000 users across 128 locations. Based on secure Linux and open standard SIP (Session Initiation Protocol), Zultys packs its IP phone systems full of business enhancing features that provide a wide range of enterprise-class Unified Communications services, allowing companies to gain a competitive advantage and achieve a rapid return on investment.

Available features include:
Unified Communications client for Windows, Mac & Linux
Complete Contact Center with Customized Reporting
Visual voice mail
Integrated Fax Server
Presence & Instant Messaging
Active Directory/LDAP support
Unified Messaging
Automated Attendant with Interactive Voice Response
N+1 redundancy and cross-site failover
Mobile Unified Communications client for iPhone & Android
Seamless multi-site integration
Centralized management
Busy lamp field / Key system emulation
Enterprise Session Border Controller (E-SBC)
Historical archiving of call recordings, instant messages, voice mail, fax and call logs (CDR)
All Zultys IP phones can support remote workers without requiring a VPN
Find Me/Follow Me/Simultaneous Ring
User friendly administration interface
IP Phone Systems

SIP Standard Enterprise IP Phones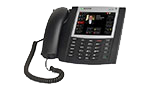 ---
Back to Main Product Catalog
Nova Will Help You Explore ALL Options
Hosted, Virtual, VoIP or Traditional Phone System… Which fits your company best?