ZIP 59
i


Feature-rich Executive Level Color Touch Screen, Gigabit IP Phone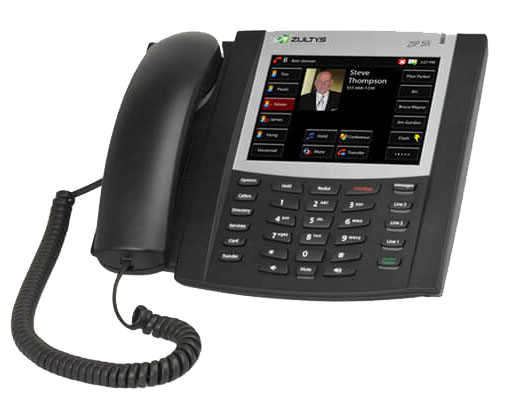 The Zultys ZIP 59i is for the discerning executive who wants the very best in the industry. Featuring a high quality 5.7" full color high resolution VGA touch screen display, this stylish SIP Open Standards-based phone offers an intuitive graphical user interface, 55 touch screen softkeys, full duplex wideband audio speaker and handset (for the best audio anywhere), dual Gigabit Ethernet Interfaces and extensive call management capabilities, built-in bluetooth interface and a USB port. The ZIP 59i is fully interoperable with the Zultys MX family of award-winning IP Telephony platforms and MXIE Unified Communications desktop client.
Key Features and Benefits
Large Touch Screen Display
The high resolution (640 × 480) full VGA backlit LCD Touch Screen display is at the heart of the ZIP 59i. A state of the art display, the screen provides helpful navigational menus to take full advantage of the powerful telephony features this SIP phone brings to the desktop. Adjustable brightness settings can be used to ensure maximum resolution quality in any lighting environment.
Remarkable Audio
All ZIP-5 Series IP Telephones offer full-duplex speakerphone for excellent voice clarity and delivery. With over eight years experience in IP telephony and IP telephone design, Zultys can ensure superior voice quality on every product we sell.
Flexible Headset Options and Mobility
Providing enhanced headset flexibility, the ZIP 59i allows for a variety of headset options. Featuring a built-in Bluetooth interface and a dedicated Electronic Hook Switch port, the ZIP 59i facilitates mobility around the office while enjoying remarkable audio quality on your wireless headset.*
* Range capacity subject to operating environment
Simplified Deployment
From initial deployment and configuration to future enhancements and upgrades, the Zultys family of IP telephones are designed to save your business time and money. Dual auto-sensing Gigabit (10/100/1000 Mbps) Ethernet ports eliminate additional wiring and simplify installations. Integrated IEEE 802.3af Power-over-Ethernet allows easy deployment with centralized powering and backup. All ZIP 5-series IP phones are easily provisioned and updated via Zultys' market-leading MX administrator graphical management application.
Feature Highlights
Large 5.7" Full VGA (640×480) Color Touch Screen LCD
Integrated Gigabit Ethernet and Bluetooth support
Built-in USB port
Intuitive graphical user interface and navigation menus
On screen keyboard for easy input and editing
XML Support for productivity-enhancing applications
Multi-proxy support
Up to 9 lines with call appearances
Up to 55 programmable softkeys
Distinctive ringing, priority alerting
Call forward/Call transfer/Call waiting/Call timer
Personal directory and Redial list with Picture support
Caller and calling line information, Callers log
Local 3-way conference
Intercom and Paging with auto-answer
One-touch call transfer, conference or call park
Busy Lamp Field (BLF) support