MX Series
Advanced "All-in-One" IP Phone System Solutions for all Your Business Needs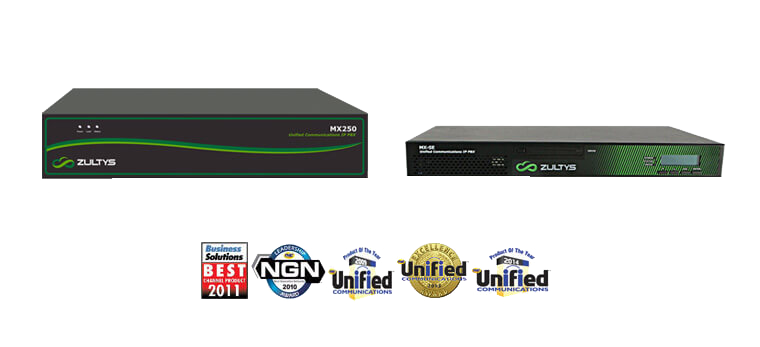 Manage Your Phone System Your Way.
The Zultys family of advanced Open Standards SIP-based IP phone systems offer businesses of all sizes a feature-rich, energy-efficient path to IP telephony and Unified Communications. Zultys MX series of IP phone systems do more in one system than any other IP phone system on the market!
The MX250 and MX-SE premise-based IP phone systems include a PSTN and SIP gateway right out of the box.
Innovative, reliable and scalable, the MX series of IP phone systems integrates voice, video, and are loaded with business-enhancing features such as Unified Communications, integrated Fax, Voice Mail, Contact Center, Presence, Instant Messaging, Zultys Mobile Communicator™, integrated MXconference™ audio conferencing and more, to optimize collaboration and communications for businesses of all sizes.
Feature Rich Advanced IP Phone System
The MX250 IP phone systems deliver enterprise class business IP telephony services that support high quality VoIP and Unified Communications services for up to 250 users with one appliance, while the MX-SE IP phone system supports VoIP and Unified Communications for up to 50 users. Each MX system comes with built-in SIP trunk support and a complete Unified Communications system.
All-in-One Appliance Does Everything You Need
With the MX series of IP phone systems, workers are unified across their organization into a single communication system – regardless of their location, even if they are on the road using their mobile phone. Users of the system may log in from any location and have full access to all system features while retaining their own personal user identity – whether they are logging in at the office, at home, while traveling, or from a different site.
Zultys IP phone systems combine the functions of an Internet gateway, with classic phone system functionality for high quality voice calling and Unified Communications across an organization. They provide powerful applications such as the Zultys MXIE™ Unified Communications desktop client, presence, instant messaging, fax server, unified messaging, Find-me/Follow-me, advanced call handling, screen pops, and detailed call logs. They integrate with Microsoft Exchange and also support contact center, ACD, IVR, video calls, text-to-speech announcements, call recording, and Voice Mail.
The systems are easily managed and maintained through the administrative console, referred to as MX Administrator™, an intuitive Graphical User Interface that can configure and monitor every aspect of the platform securely and remotely over LANs or WANs. You can configure and manage multiple systems at the same time from anywhere through one MX Administrator console.
Zultys' premise-based MX250 and MX-SE IP phone systems are also highly energy and resource efficient. They provide a complete voice and Unified Communications solution in a single box for less energy than it takes to turn on a household light bulb.
Designed for SIP Open Standards
The MX series of IP phone systems were designed and built from the ground up as SIP Open Standards platforms to provide a complete IP telephony and Unified Communications solution. Zultys not only provides its own line of high quality SIP desktop phones, but also supports a growing range of 3rd party phones and services. Zultys gives the user the freedom to tailor the deployment that's best for them.
Scale Seamlessly as Your Company's Needs Grow
Zultys MX series of IP phone systems seamlessly scale up to meet a company's growing communications needs, often without ever requiring any additional hardware. You can expand to meet your needs by upgrading user licenses (up to the service capacity of an IP phone system), or you can deploy additional MX systems. The Zultys MXnetwork™ feature enables multiple IP phone systems to be connected in a peer-to-peer architecture to provide organization-wide Unified Communications across 128 different locations for up to 10,000 users. Our distributed platform enables survivability, high availability and disaster recovery over multiple locations.